Fulfillment plugins are setup within the Plugins page.
1. Navigate to Administration > Plugins
2. Select Fulfillment Integration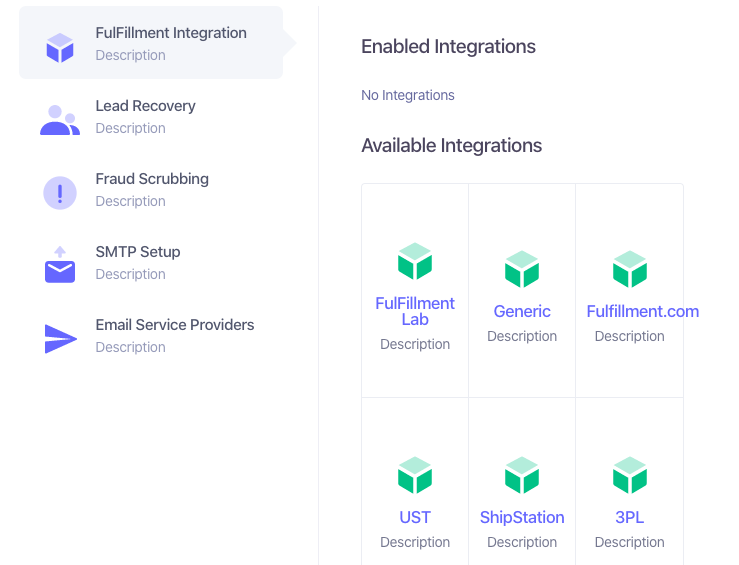 There are eight fulfillment house integrations to choose from. Each integration requires different input credentials, which are to be provided by your provider.
Fulfillment.com
Hashtag Fulfillment
The Fulfillment Lab
Rapid Fulfillment
ShipRight
ShipStation
UST Fulfillment
Veracore
Note: If your fulfillment provider is not listed above, you can contact our sales department for a integration quote to add it to the CRM, or you have the option of coding your fulfillment provider to your sites via our Open Api located at https://developer.responsecrm.com. This option would require a web developer in order to accomplish.
3. Click on the desired fulfillment plugin.
4. After clicking on the icon a plugin pop will appear and ask for credentials in order to establish a connection to your provider. These items are to be provided by your fulfilllment provider, except for the Title, which you can make up. In the example below, you will a pop up for ShipStation, a popular fulfillment provider.
5. Once all fields are entered, click Save.
6. The plugin setup is now complete and available to use.

Fulfillment Integrations also require your products to be updated in order to ship.
1. Navigate to CRM > Products
2. Click on edit button under Actions
3. In the edit charge window, under Fulfillment Options, select the Fulfillment Provider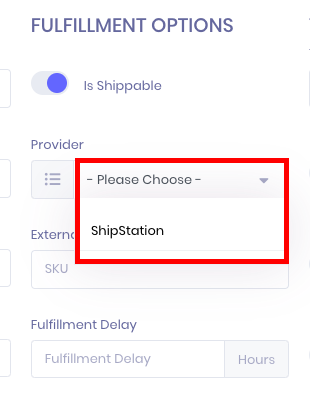 4. If you require a fulfillment delay, which is the time interval between when an order is placed and when it is sent to your fulfillment provider, then enter a delay in hours under Fulfillment Delay.
5. Click Save to apply settings.