The Alert System allows you to create email alerts for various limit parameters that you set based on your transactional activity.
You can create alerts for:
Reaching or exceeding your total processor limit. You can set this based on a % of your total limit.
Refunded transactions - you can set an alert for reaching a certain % of refunds or a count limit.
Declined transactions - you set an alert to notify of you reaching a certain % level of declined transactions, or an alert based on the number of declines occurring consecutively.
Chargebacks - set an alert based on % or count.
1. Navigate to CRM menu Administration > Alert System, and click on the "+ New" button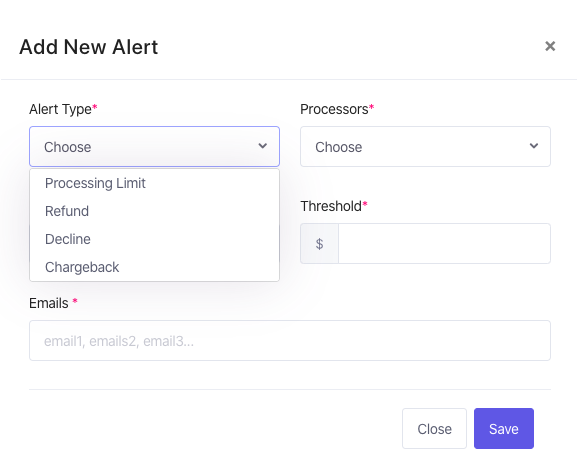 2. Once you select the alert type and rule, select one or more processors to apply the alert to.
3. Enter the threshold. For example: selecting a ratio, you would enter any number from 1 to 100. If entering a count, enter any number. If entering a dollar limit, enter any amount without a $ sign.
4. Enter the email(s) you would like to receive those alerts. Alerts will also be displayed within the dashboard.
Once an alert is saved, you will see it in the Alerts table. Alerts can be modified or deleted at anytime.