Once a product group and charge has been set up on the client Account level, these products will then be available on the site level for new campaigns to use.
Assuming you have already started your campaign/site setup process:
1. Navigate to CRM > Sites
2. Click on "Edit" under Actions, and this will take you to the site's edit page.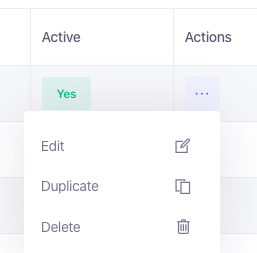 3. Click on "Add Product Group" under products towards the bottom of the page
4. Select the correct product to place on your site.

Note: Only products that were setup within the Products page on the client Account level will be available to use for your campaigns. If you need to create a product that isn't listed here, you must first create it in the Product page (CRM > Products)
5. To view the products within this product group, click on"View" under the Charges column.
6. Click Save at the bottom of the page to complete setup.
The product is now available to be used in your campaign.
To delete a product from the site settings:
1. Click on the trashcan icon

for the product and save.