The Fulfillment Report can be used to change the status and dates of any existing shipment in single or batch of orders, as well as reship any single order or a batch of orders.
1. Navigate to CRM menu Fulfillment > Fulfillment.
2. Select the Date Range Type, additional filters (optional), and a date range.
Date Created: The shipment creation date.
Date Shipped: The actual date of shipment
Date Delivered: Date of shipment delivery
Date Returned: Date of shipment return
Click on Show More Filters to show the additional search filters
Charts & Results:
The results table will display all the order shipments from your search.
In order to setup a batch update for either status, date change, or reshipment, select one or more shipments, then click on Batch Updates (above the results table)


The different batch update options are:
Status: change the status from an existing to Hold, Pending, Pending Shipment, Shipped, Delivered, or Returned.
Date Shipped: Change the date of shipment(s) to any other date
Date Returned: Change the return date of shipment(s) to any other date
Reship Fulfillments: Reship Order(s)

Once you select the batch type options, click Update Batch to update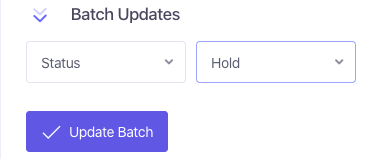 You can view your batch updates at the top of the page by clicking on "Recent Batch Updates", and you can also pause/delete existing batch updates before they begin or complete.